WomenUnited
MISSION: To inspire and enable positive change in our community through philanthropy, volunteerism and advocacy.




Current Awareness and Fundraising Focus for South Sarasota county:
"FROM C.A.R.E.S. to Caring"
EVICTION PREVENTION and mitigating homelessness for the A.L.I.C.E. population here in South County
SPONSOR | JOIN

MULTI-MEDIA & IMPACT FOCUS
NEXT MICRO-EVENT:
Women United® for Laughter & Love - Comedy for a Cause Saturday, July 31st, 2021
- click here!
In July of 2020, an Executive Order was issued allowing evictions to be filed in the courts even though there was a moratorium on evictions due to COVID19. Throughout 2020 there were over 539 eviction lawsuits filed in Sarasota County and that number has continued to climb in the 1st quarter of 2021.
We fully expect to see a "Tsunami" of evictions hitting our community once the moratorium is lifted with hundreds of families, individuals and seniors becoming homeless if we do not intervene.
You can help keep people in their homes and stem the tide on evictions in our community! With your participation we can help hard-working, responsible people who, if they are the average working person, are living paycheck to paycheck, have little to no savings, and are spending more than 30% of their income on housing.


| | | |
| --- | --- | --- |
| __________________________ | | __________________________ |


Women United

®

is network of women in leadership positions who have the energy, talent and passion to build a strong collective voice within our community for the betterment of all who call South Sarasota County home.



We are currently shaping this new dynamic group here in South County and we are pleased to introduce this worldwide affinity group to south Sarasota County in order to mobilize the caring power of our community on the most pressing issues for our own neighborhoods.




Women United® will launch this year with a fundraising and awareness focus on one of the most pressing relevant issues affecting our own county.


OUR CURRENT CENTRAL FUNDRAISING & AWARENESS FOCUS

"FROM C.A.R.E.S. to caring!"





EVICTION PREVENTION


& Homelessness Mitigation


If you have a passion to help others, have strong leadership skills and want to be a leader in our community please join us! You may email our Women United

®

Chair, Mel Thomas, Sandra Di Pentima, or our President/CEO Barbara Cruz via Erin Lilly, VP, Strategic Growth & Communications director for additional information!

development@uwssc.com



In the service of South Sarasota County,


Mel Thomas
Chair, Women United

®

South Sarasota County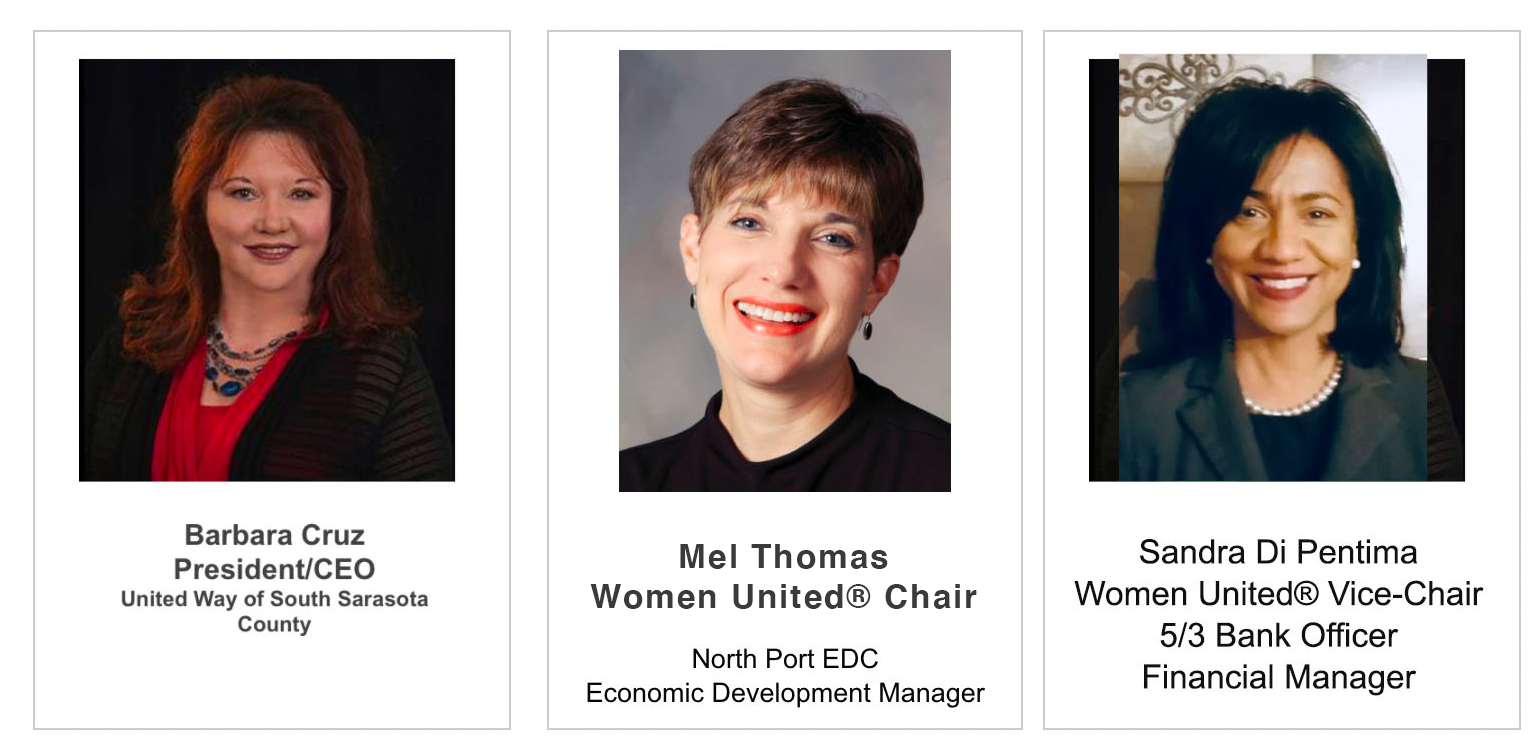 | | | |
| --- | --- | --- |
| | Inaugural Launch Highlights Photos | |
_________________
Our Community Partners on The Urgent Need for Support to Prevent Eviction & Mitigate Homelessness in Our Community:
"The concern is the fact that a lot of federal income coming into our area has income limits.... they are at 80% media income and believe it or not ALICE families are above this limit - so they are typically NOT eligible for those funds..."
-Chris Johnson, Suncoast Partnership to End Homelessness
The national definition of homelessness includes sleeping the previous night in a place lacking water or electricity. A parent does everything in their power to prevent this from happening for their children, including paying for a hotel with their paycheck or staying with friends and relatives.
As a consequence, these families are not considered homeless and do not qualify for federal and state funds and assistance.
-Jenifer Fagenbaum, Family Promise, Sarasota County

Women United® mobilizes the caring power of our local communities by:
Understanding the Communities We Serve | Engaging the Community in Solving Relevant Issues
Inaugural Launch Photos