Micro-Event
Turnkey
MICRO-EVENTS

for members!
"FROM C.A.R.E.S. to Caring"
UPCOMING MICRO-EVENTS!
Thank you to all who have hosted events to date!
We are finalizing new events for 2020!
RE: MEMBER REQUIREMENT - "Participate in Women United® fundraising activity through having at least one "micro event" raising a minimum of $1,000 (LEADERSHIP POWER 50 LEVEL)
or $500 (IMPACT MEMBER LEVEL)
Why our membership micro-event fundraising model is both effective and do-able.

___________________________________________________

SIMPLE. FUN. - EXAMPLE - Barbara Cruz's Micro-Event -click here-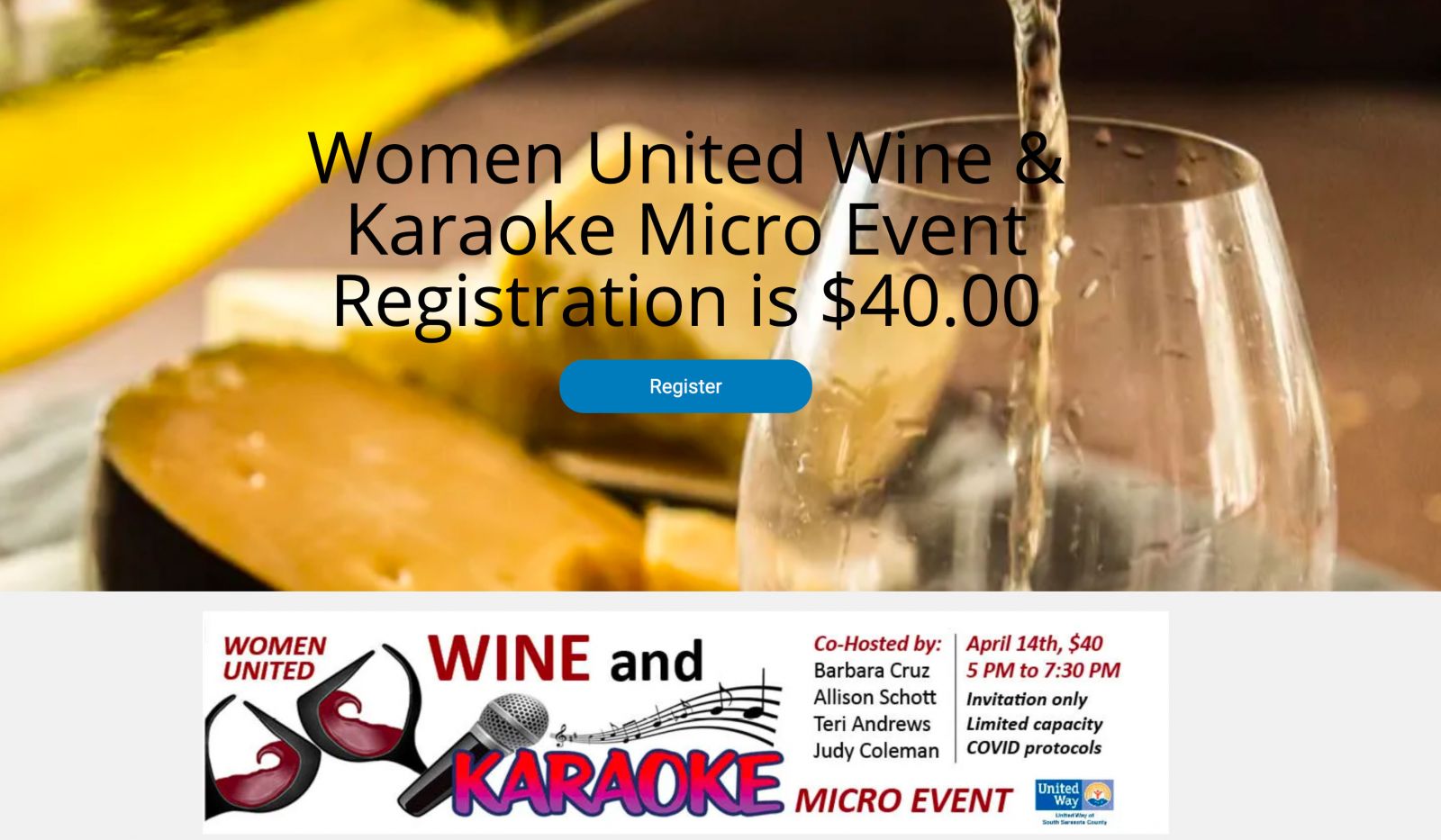 BARBARA'S EXAMPLE shows how to have a wine tasting and karaoke micro-event, inviting 30 people, who need not be all women, nor women from our group. They will donate $40 for an event ticket raising $1,200 for Women United and you're done with your fundraising commitment for the year.


Collectively this easy model of inviting personal friends for a gathering assists us in funding highly impactful change for families and individuals experiencing hardship!

_________________________________

EASY MICRO FUNDRAISING EVENT IDEAS:
(scroll for micro-event template idea sponsors)
YOGA with BUTTERFLIES Class | Women United® Wine Tasting Party | Escape Room Sarasota Party |
Murder Mystery Dinner Party

*we send the invitations, send a link to Women United® and handle collections. We help you plan your gathering or event!
It need not be an all ladies party.
| | | |
| --- | --- | --- |
| ________________________________ | | ________________________________ |
Micro Event - Turnkey Fundraising Sponsors & Partners
(in order of joining our team!)

_______________________________________________________________
MEET OUR MICRO EVENT SPONSORS at our INAUGURAL LAUNCH on April 28, 2021!
Members will receive flyers on the micro-event sponsor services as enclosures their leatherette member folio!

QUESTIONS? - development@uwssc.com -
___

Become a Micro-Fundraising Event Provider - Jaiden Johnsin, Director of Development and Communications
jjohnson@uwssc.org
SOUNDS GREAT!
How to easily join Women United® now - click here -

Contact Jaiden Johnson, Director of Development and Communications, for articulation and planning of these or similar ideas!
See below turnkey event concept sponsors
development@uwscc.com
Women United® mobilizes the caring power of our local communities by:
Understanding the Communities We Serve | Engaging the Community in Solving Relevant Issues