VITA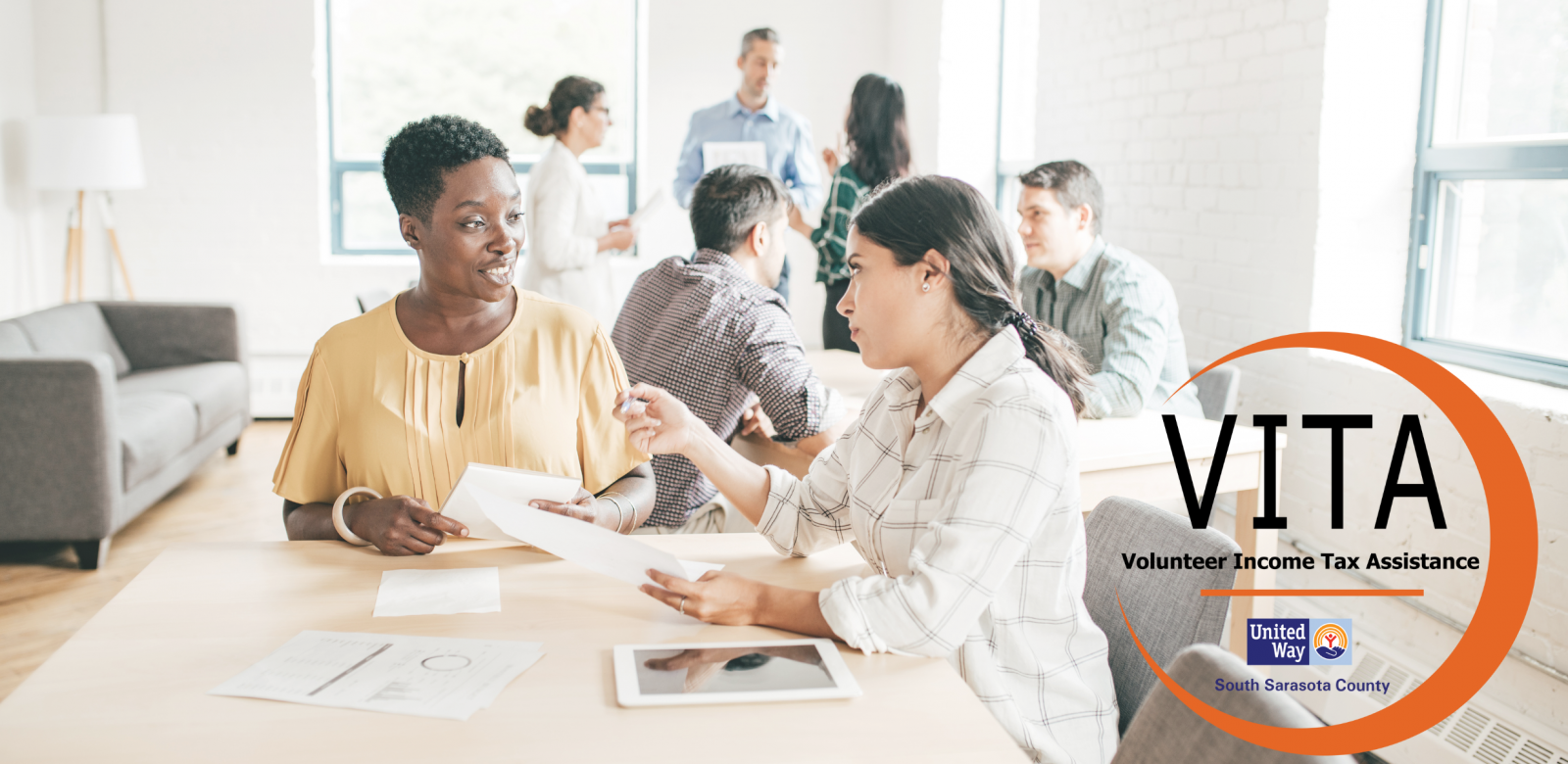 FINANCIAL STABILITY PROGRAM IN VENICE, ENGLEWOOD AND NORTH PORT
As part of the Financial Stability Program for South Sarasota County, United Way South Sarasota County supports free tax preparation assistance and education regarding the Earned Income Tax Credit (EITC) and Child Tax Credit (CTC) at three locations in South County.
VITA: Volunteer Income Tax Assistance
VITA is an IRS program that utilizes certified volunteers to help provide free and accurate tax preparation services to low- to moderate-income taxpayers. These services are provided at a variety of public locations such as libraries, schools, and neighborhood centers in certain high-need areas. VITA has been instrumental in helping ALICE (Asset Limited, Income Constrained, Employed) households receive thousands of dollars in additional refunds.
VITA programs provide a fundamental direct service to a clientele in need. A substantial portion of available assistance to lower-income families is accessible only by filing a tax return (assistance such as the Earned Income Tax Credit, the Child Tax Credit, and more). The average cost among large national tax preparers is close to $200, and there is evidence that some EITC filers pay up to $500. For lower-income taxpayers who want assistance preparing and filing their tax returns, the free service available from VITA represents a significant cost savings. For a sizable number of VITA filers, the tax credits and refunds claimed represent a large share of annual available household resources.
File a Return With Us for Free!
You are eligible for VITA services if you are an individual or a family who earned $66,000 or less in 2021 and need basic tax preparation.
Scroll down to make an appointment and review the documents you'll need to bring with you to the site.
VITA sites will reopen February 1, 2022 by appointment only. You may also call 941.484.4811 or email programs@uwssc.com.
Appointments are required because we have a limited amount of volunteers at each site.
COVID safety protocols will be implemented at all sites. Masks are required regardless of vaccination status.

VITA LOCATIONS & HOURS OF OPERATIONS
---
---
---
Required Documents and Important Information
DOCUMENTS NEEDED
Your appointment will need to be rescheduled if you do not bring the required documentation.

INTERVIEW/INTAKE SHEET
Please fill out ahead of time to speed up your visit.

DIRECT DEPOSIT INFORMATION: Using direct deposit is the safest and fastest way to receive your tax refund and economic impact payments. You will need an account number and a routing number from a bank or a credit union to set up a direct deposit. BankOn provides a list of options for low to no cost checking accounts with minimal to no monthly fees. Click here to visit the BankOn page for more information on the options for an affordable bank account in your area. You may also go to the IRS Website for more information about your refund and direct deposit.

COVID SAFETY PRECAUTIONS

All sites require an appointment. No walk-ins allowed.

Appointments will be spaced in a way to limit the interaction of taxpayers and allow for social distancing.

Only the taxpayer (and spouse if married filing jointly) may come to the site. No other individuals will be admitted.

All volunteers and taxpayers must wear a mask covering both the nose and mouth at the site. Masks will be available at all sites if needed.

Hand sanitizer will be available and surfaces will be disinfected between appointments.
---

ADDITIONAL VOLUNTEERS ARE WELCOME
Click the button above or contact Teri Andrews, Director of Programs for more information at tandrews@uwssc.org or call 941-484-4811, Ext. 104.
Benefits of Volunteering
Free training and tax preparation certification.

Multiple positions, locations, and schedules to choose how, when, and where to volunteer.

Educational way for students to get their volunteer hours.

Continuing Professional Education credits eligibility.

Training and certification are convenient and free.

Positive impact on our community