VITA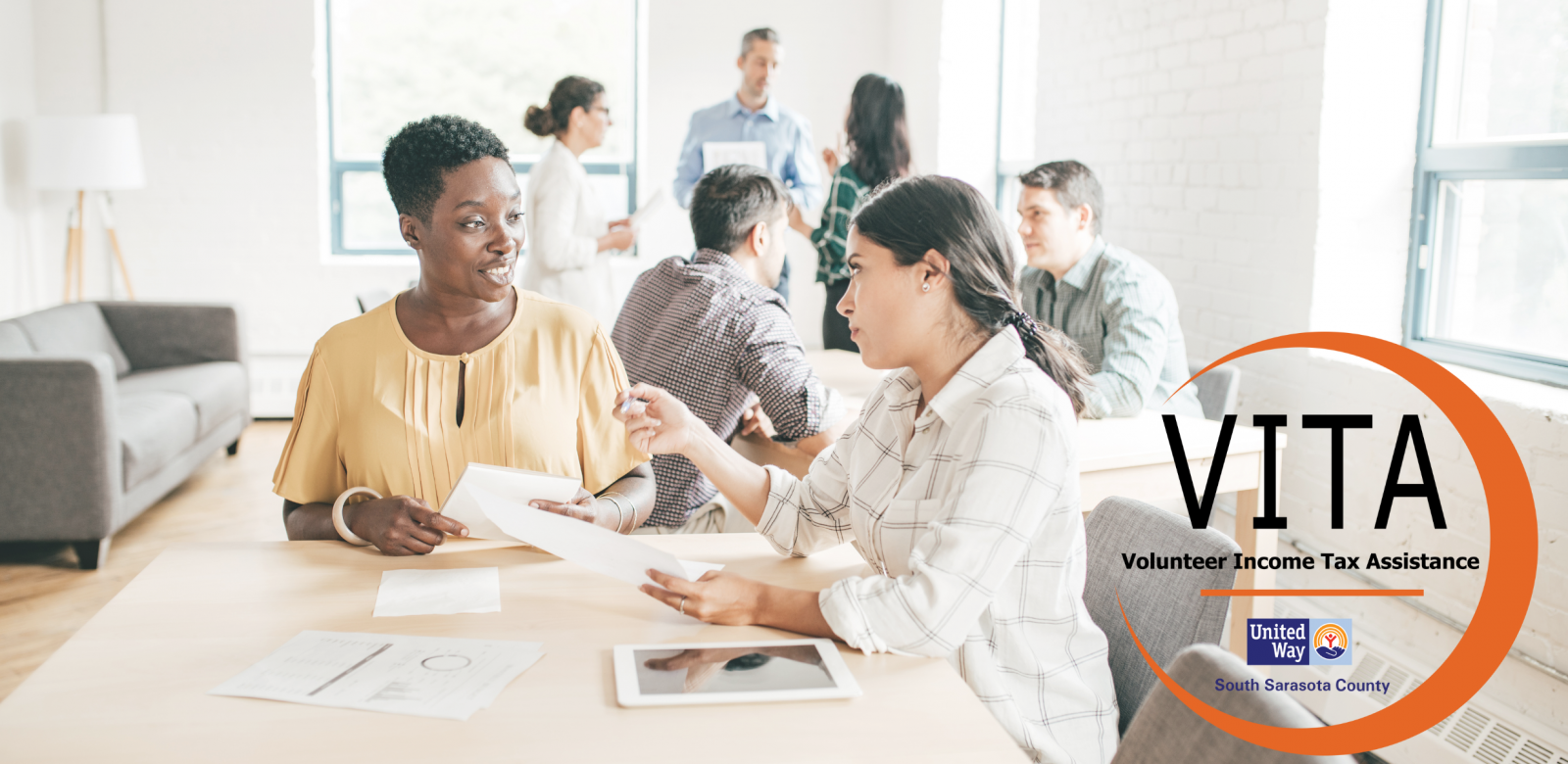 FINANCIAL STABILITY PROGRAM IN VENICE, ENGLEWOOD AND NORTH PORT
As part of the Financial Stability Program for South Sarasota County, United Way South Sarasota County supports FREE tax preparation assistance and education regarding the Earned Income Tax Credit (EITC) and Child Tax Credit (CTC) at three locations in South County.
---
WHAT IS VITA? VOLUNTEER INCOME TAX ASSISTANCE PROGRAM
Every year, thousands of low-to-moderate income households are missing out on valuable tax credits during tax season - money that can have a huge impact in their lives. Fortunately, the Volunteer Income Tax Assistance Program (VITA) assists these individuals with navigating complex rules to maximize refunds and provides FREE tax preparation services that can help families make ends meet.
VITA is an IRS program that utilizes IRS-certified volunteers to help provide free and accurate tax preparation services to low- to moderate-income taxpayers. VITA has been instrumental in helping ALICE (Asset Limited, Income Constrained, Employed) households receive thousands of dollars in additional refunds.
---
VITA PROGRAM ELIGIBILITY, REQUIRED DOCUMENTS & IMPORTANT INFORMATION
You are eligible for our VITA basic tax preparation services if you are an individual or a family who lives in South Sarasota County and earned $74,000 or less in 2023. Appointments are required because we have a limited amount of volunteers at each site.
For taxpayers who incurred disaster costs as a result of Hurricane Ian in 2022 and who intend to deduct those expenses on their 2022 return, please note that those returns are not eligible (out of scope) for VITA services. Taxpayers who received federal disaster relief funds (such as from FEMA) may be eligible (in scope) for VITA services. Federal disaster relief income is not taxable.
Book VITA Appointment Now Using Dedicated Link
---

2024 VITA LOCATIONS & HOURS OF OPERATIONS
VENICE LOCATION:
United Way South Sarasota County Office
4242 South Tamiami Trail,
Venice, FL 34293, in the event room.

CLICK HERE: IMPORTANT DOCUMENTS REQUIRED

HOURS OF OPERATIONS:
Tuesdays 10am-2pm
Wednesdays 10am-2pm, 3pm-7pm
Saturdays 10am-2pm
---
---
NORTH PORT LOCATION:
Family Service Center
6919 Outreach Way
North Port, FL 34287

CLICK HERE: IMPORTANT DOCUMENTS REQUIRED

HOURS OF OPERATIONS:
Thursdays 2pm-7pm
Saturdays 10am-3pm
---
Consider Becoming a VITA Volunteer!
Click the button below or contact Teri Andrews, Director of Programs
for more information at tandrews@uwssc.org or call 941-484-4811, Ext. 104.