News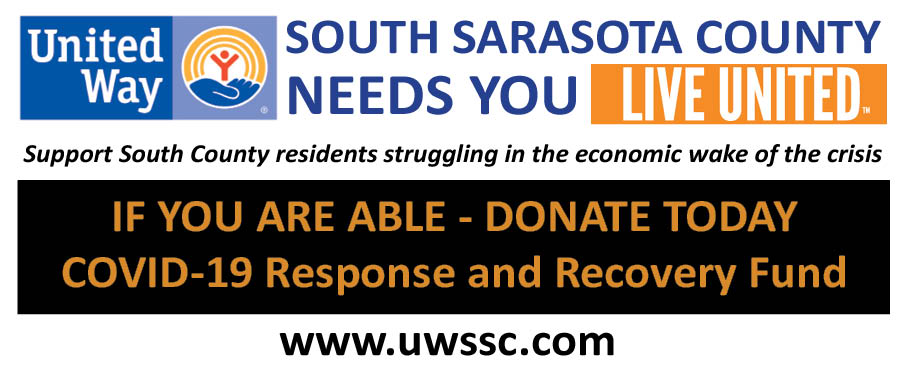 03/25/2020
FOR IMMEDIATE RELEASE
COVID-19 RECOVERY AND RELIEF FUND LAUNCHED BY UNITED WAY OF SOUTH SARASOTA COUNTY
With the World Health Organization recently declaring the Coronavirus (COVID-19) a pandemic, United Way of South Sarasota County board of directors has launched a South Sarasota County COVID-19 Recovery & Relief Fund.
This fund will provide financial resources for individuals and families in Venice, North Port, Englewood, Nokomis, Laurel and Osprey who are disproportionately impacted by coronavirus and the economic consequences of this outbreak. Contributions to this fund are designed to fill the gaps arising from this pandemic and to address aspects of the outbreak as efficiently as possible.
United Way plays a unique role in convening conversations for open dialogue across sectors and to coordinate efforts addressing community needs. As a result, United Way is establishing a South Sarasota County Coronavirus Fund Distribution Subcommittee which will hold fiscal responsibility for the fund.
"With recent news of the mandated school closures statewide, we are accelerating our efforts. Our goal of this fund is to support the immediate needs of the economically vulnerable populations in South Sarasota County," said Barbara Cruz, President/CEO of United Way of South Sarasota County. "Any contribution, small or large, is immensely appreciated and unites our community for the greater good."
To donate to this fund, visit www.uwssc.com . Checks can be mailed to United Way of South Sarasota County at 157 S. Havana Road, Venice, FL 34292.
For questions regarding the United Way of South Sarasota County's Coronavirus Recovery and Relief Fund, contact Barbara Cruz by calling 941-484-4811 or emailing barbara@uwssc.com.
For other resources regarding COVID-19 visit our Resource page at www.uwssc.com, or call 2-1-1. Direct any immediate questions regarding COVID-19 to our local public health department COVID19 call center at 1-866-779-6121 or email covid-19@flhealth.gov.
###
Publix Supermarket Charities cannot be beat for caring about its communities!!!
They match their own associates giving to show their committment to their neighbors !! Thank you is not enough!
This year alone Publix Charities gave $218,000 to match thier associates giving of $299,000 in 2017! This is just amazing for our community's children, families, seniors and veterans in need!
Shop Publix, were shopping makes a difference!!!!