Sarasota County Long Term Recovery Group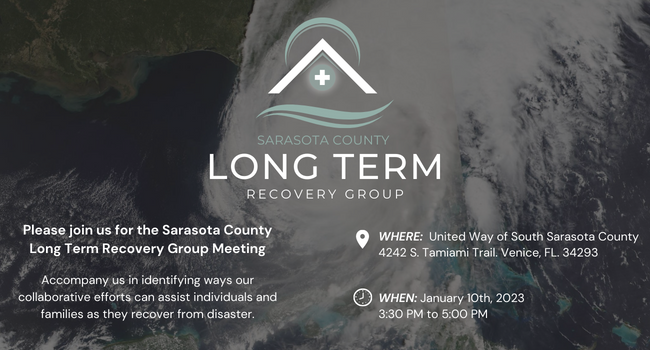 STANDING UP A LONG TERM RECOVERY GROUP FOR SARASOTA COUNTY
Community members, leaders, and stakeholders with an expertise and passion for helping Sarasota County recover from the devastation of Hurricane Ian are invited to attend the Sarasota County Long Term Recovery Group Kick-off Meeting. As Sarasota County moves into the long term recovery phase our community is relying on us to be strategic and collaborative in our approach. By establishing a Long Term Recovery Group (LTRG) we can achieve just that!
LTRG is a cooperative body that is made up of representatives from faith-based, non-profit, government, business and other organizations working within a community to assist individuals and families as they recover from disaster. Our community rallied in the most impressive ways to meet the short term needs of basic necessities right after the hurricane and we would ask that you join us in rallying once again to meet the long term needs of our community!
Community members who are interested in finding out how to help our community recover from Hurricane Ian are encouraged to attend the Long Term Recovery Group Meeting on January 10, 2023from 3:30 PM to 5:00 PM. This meeting will be held at
United Way of South Sarasota County at 4242 S. Tamiami Trail. Venice, FL. 34293
Please register using the link below or by calling the United Way of South Sarasota County office at 941-484-4811.
All are welcome to attend this meeting and learn more!