Campaigns & Toolkit
2020 Campaigns!
POSTERS - RACK CARDS - HANDOUTS
for display and distribution in your common areas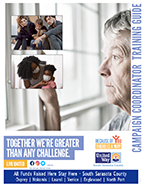 POSTERS
11 x 17 wall posters
*our office can print and bring you these posters to you directly.
Contact campaign relationship manager, Jaiden Johnson at jjohnson@uwssc.org



*check for highlights updates on our partner page links below as we move through our campaign season!
PUBLIX Campaign


5/3 Bank Campaign
Sarasota County Campaign